On May 12, 2018 Sean and I celebrated our 9 month anniversary at a Family Visit. Our wedding day is something we like to remember and celebrate each month because it something that brings us both great joy.
Sean's eyes lit up when he showed me the little lizard he had caught. It was tan with dark brown markings and about 3 inches long.  Sean explained that he had caught the lizard while sitting outside in the sun, waiting the couple of hours it had taken for the officers to process to escort the visitors over. Anyone who knew Sean would not be surprised at all by this, he has always loved animals, especially reptiles.  After all the pictures and stories of Sean catching creatures before his wrongful conviction, I finally got to see it for myself. And it was beautiful. My husband finally got to show me a critter, not just talk about one. He has had lizards, toads, and other creatures as pets in prison before; but those he could only tell me about.  The real lizard nestled into my hand, soaking up the heat. Sean and I went outside together into the sunshine. We silently stared at the lizard until it leapt into the grass and was gone.
There has been some talk about the fogs and toads at Family Visit. Some guys are even afraid of them and this makes us both laugh: "city people!". One of Sean's  buddies from the Men's Advisory Council says he takes a broom out with him as he walks to count at night to defend himself against the toads! We both think this is silly. At Family Visit, in warmer weather we can hear croaking once it gets dark. Sean spotted a big toad during count once but it had disappeared when we returned to find it. So this time we were really hoping to spot one again.
To our happy surprise the next critter we encountered was a small-ish brown spotted toad who was very friendly. I nearly stepped on him as we were walking back to our unit from the 9 pm count. He sat by a sprinkler along the pathway, blending in with the dirt and grass, and I quickly scooped him up for a closer examination. Sean was delighted, and he's been talking about it ever since! Seriously, he has told everyone that his wife caught a toad. We searched for moths to feed our toad with no success. But the next night we found the toad again along the cement wall. Sean found a cockroach and a big moth to feed him. Boss, that's what I named the toad, opened his mouth wide and quickly snapped up the insects. I lay on my belly on the cement for a close view of his dinner, I had never seen a toad do this before. Boss seemed happy to play with us and we were entertained by him. Later that night when we came outside again for midnight count we found him near the door, as if he were waiting for more food. We hope to see Boss again next time, or maybe one of his toad buddies.
Now that the DVD players are in the Family Visiting units we are allowed to borrow 2 DVDs per visit, which as of now are all G-rated children's movies. We are working to order some family-friendly PG-13 DVDs in the new fiscal year. This time we watched one of our favorites, Wall-E. We sat together cuddled on couch eating popcorn while we watched. Wall-E is such an endearing character. His persistence to keep going even when he is completely alone is a scenario we can both relate to. We like the way he collects things from the garbage to save separated in categories in his home. Wall-E desires companionship beyond his pet cockroach, but unfortunately he is stranded on Earth when everyone has abandoned him and the other trash compacting robots.  Then when EVE, a space probe, comes to Earth to search for life, Wall-E falls for her and brings her into his home to share all his treasures with her.  His care for her is obvious in the way he protects her after she shuts down when she finds a plant. It's really sweet.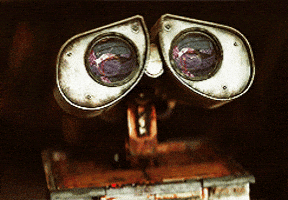 We enjoyed watching this movie and everything we got to do together this time around. We look forward to our next Family Visit when we will be celebrating Sean's 32nd Birthday!